Since Voyager's debut at Sundance 2017, we've been traveling the world (the US, France, England, Russia, Saudi Arabia, India—you name it!) connecting with VR creators, and showing audiences what our full-motion chair adds to the experience of watching cinematic VR.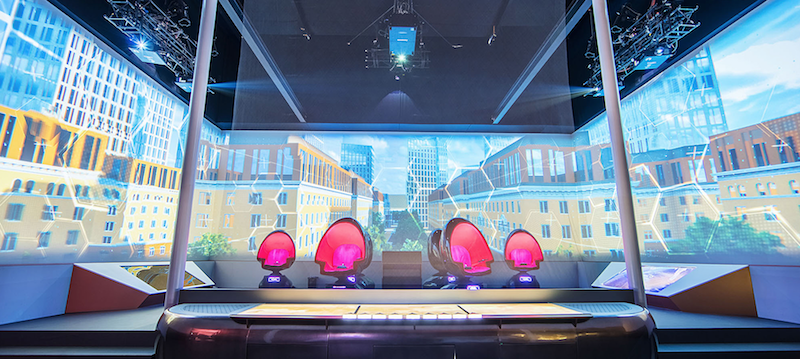 Over the last 18 months, we've collaborated with everyone from the most exciting independent VR creators (like Felix & Paul, AtlasV, RYOT, Eliza McNitt, and A.R. Rahman, to name a few) to the biggest studios in Hollywood (like Universal and Warner Bros.). And we've premiered new work on Voyager at the most prestigious film festivals in North America and beyond—including Sundance, SXSW, Tribeca, AFI FEST, and Cannes.
As we get deeper into 2018, though, one of the things we're most excited about is continuing to build a deep connection with the creative VR community, and testing with that community exciting ways to bring premium location-based VR to audiences.
And guess what? We've already started!
---
The Voyager VR Theatre at Ace Hotel.
Last October, as we started looking ahead to 2018, we knew we wanted to bring Voyager to the major film festivals. But we also knew we wanted to break out of the festival/convention circuit and find new exhibition partners—and help monetize VR for creators by bringing their work to new audiences.
Enter Ace Hotel.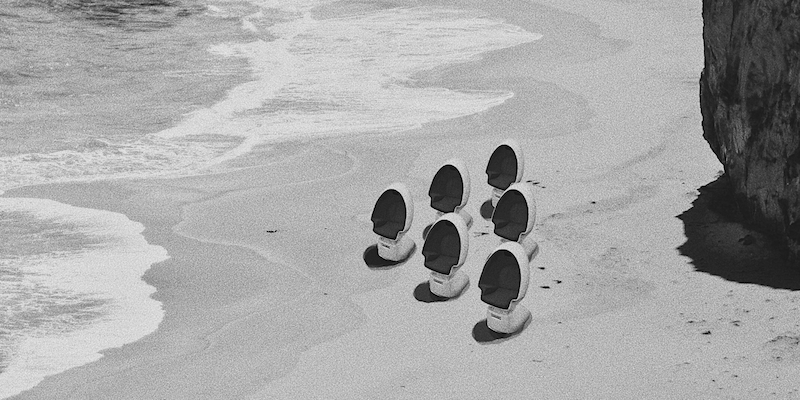 As we were thinking about possible partners that could host a Voyager VR theatre, boutique hotels seemed like a natural fit. And Ace Hotel was at the very top of that list. As a big part of their marketing strategy, they reach out to the creative communities in every city where they have a hotel, and invite those artists into their space to throw release parties, concerts, installations, and other events.
So, why not a VR theatre?
To our delight, when we pitched the idea of a Voyager pop-up at Ace Hotel Downtown Los Angeles, they jumped at the opportunity. And on February 19, we launched our first ticketed Voyager VR theatre!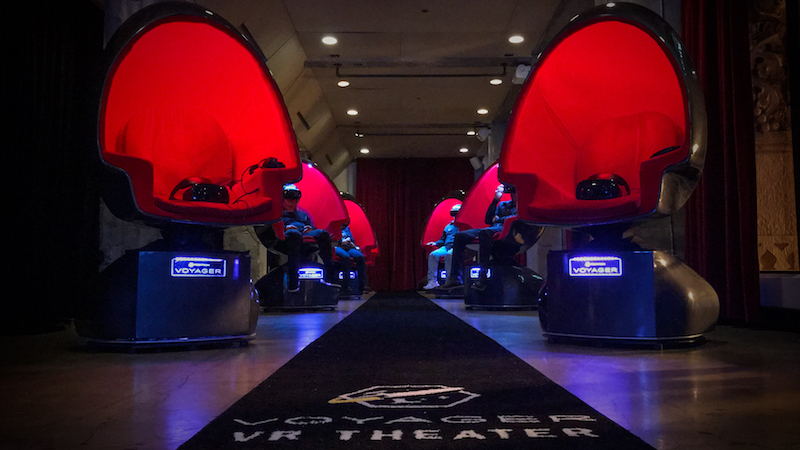 We've had as many as 20 Voyagers in a single location showing VR experiences. But the Ace pop-up was different. First, the program was nearly feature-film length. Comprised of three of our favorite works from the last year—Angel Manuel Soto's Dinner Party (Sundance '18), Jérôme Blanquet's Alteration (Tribeca '17), and Nicolás Alcalá's Melita (Venice '17)—the program was 57 minutes long! And second, we sold tickets for specific showtimes just like a movie theatre. We had 5 screenings per night Monday through Friday, and 8 screenings per day Saturday and Sunday. Patrons paid $35 for the experience, and we sold out every block!
What does this mean for the future of VR exhibition?
It means we have strong evidence to suggest that
There's a market for premium, cinematic, location-based
Audiences will watch feature-film-length VR experiences, and
Location-based cinematic VR can fetch ticket prices somewhere between movies and live theatre.
Anyway you look at it, that's exciting news for the VR industry as a whole—but most of all for ambitious VR storytellers working to create complex, long-form narrative work!
---
Meet Angel Manuel Soto.
Speaking of VR directors, we asked Angel Manuel Soto, whose Dinner Party was part of the Voyager VR Theatre at Ace Hotel, to tell us a bit about his experience showing his work on Voyager.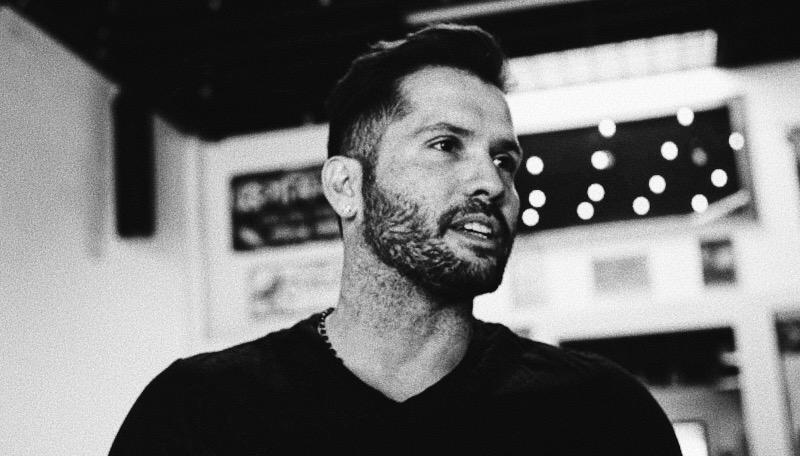 TEAM VOYAGER: What was your reaction the first time you saw Dinner Party in Voyager?
ANGEL MANUEL SOTO: It was very exciting seeing Dinner Party in Voyager because it felt like it elevated the experience to a whole new level. It expanded both the emotion and the story. And it made me realize that the chair is maybe the best way for the audience to view the experience how I'd intended.
TV: What does Voyager's motion add to the audience's experience of watching your piece?
AMS: The motion is a hugely important tool for guiding the viewer through the immersive environment—an experience that already depends so much on your spatial awareness. The fact that Voyager moves for you lets you absorb the story without worrying about missing some crucial element. And the haptics and spatial audio add an additional layer of deep engagement that the viewer might only realize subconsciously.
TV: At the Voyager VR Theatre at Ace Hotel, did you talk to viewers after they watched Dinner Party in the chair? And if so, what did they tell you?
AMS: A bunch of the viewers came up and congratulated our team on creating an immersive, live-action narrative fiction that really engaged them—almost as if they just stepped off a Disney ride. For most of them, it was their first time watching Dinner Party. Previously, at an earlier engagement at Ace Hotel, we created an installation where viewers sat around a communal table and watched the piece like guests at, well, a dinner party. Both versions of the experience are completely different, and I love them both. But my hope is to eventually be able to merge them. That would definitely be the ultimate experience!
TV: Now that you've collaborated with the Positron team on Dinner Party, does it change the way you approach your VR storytelling? Do you think Voyager will influence the way you craft your narrative or move your camera?
AMS: 100 percent! I have no doubt that I will approach my upcoming VR films with the possibility of experiencing them in Voyager. In retrospect, with the dynamic camera motion in our piece, it almost felt like we made Dinner Party with Voyager in mind. We won't always be able to show it in the chair, and it's important for the piece to work without the motion. But with my future work, I will take into consideration how Voyager can expand the experience—because I know it adds an incredible new layer to the piece. The way I'm thinking of it is: if Voyager becomes the go-to chair for VR cinema, you absolutely have to take that into consideration when you approach your narratives.
---
Sharks at Tribeca.
On Friday, we're thrilled to be world-premiering Michael Muller's stunning stereo 360 shark documentary, Into the Now, as part of the Virtual Arcade at the Tribeca Film Festival!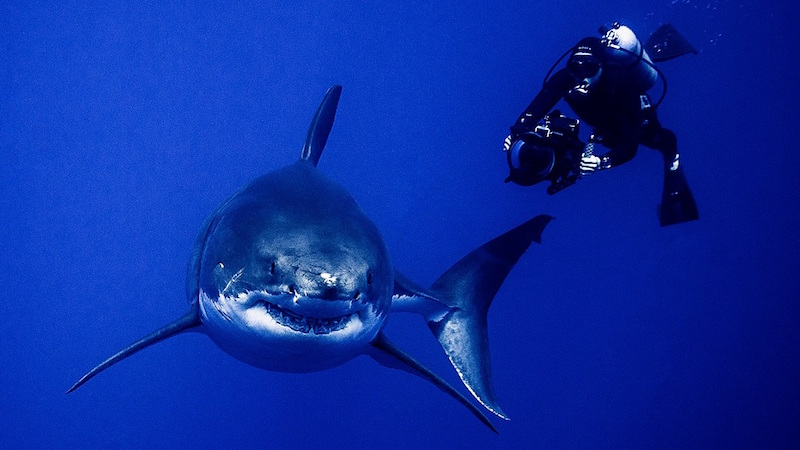 In next month's newsletter, we'll update you on our activation at Tribeca, and feature an interview with Michael about his experience showing Into the Now on Voyager.
Thanks for reading, and stay tuned!